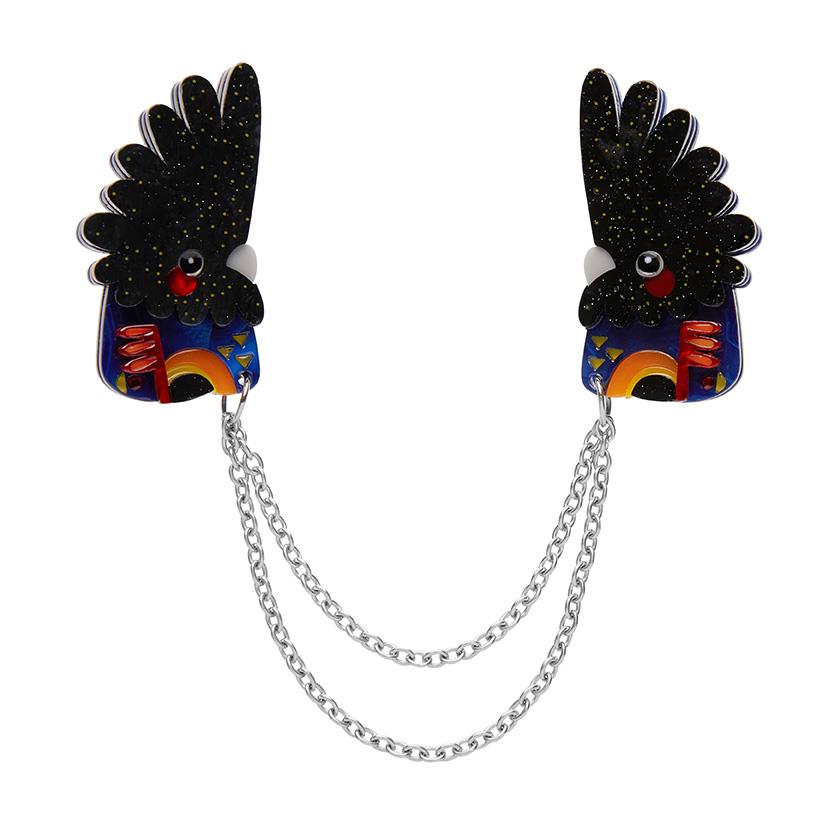 Erstwilder x Pete Cromer - The Rare Red-Tail Cockatoo Cardigan Clips
Regular price $38.00 $31.00 Sale
With a bright pop of colour, our Rare Red-Tail Cockatoo Cardigan Clips feature black glitter resin as a wonderous contrast to a collection of bright textured, hand-assembled details. Somehow both demure yet energetic and bold, Erstwilder x Pete Cromer is all about feathery fashionistas! 
STORY
Now what's this here? Let me have a chew, he squawks. Your couch, you say? Let's taste!
INFO
Original Designer: Pete Cromer
Height 50 mm x Width 24 mm
Each piece is hand assembled, hand painted and released in limited quantities. All designs are made from layered resin. As designs are produced from original illustrations and are hand assembled, hand painted and hand finished, there may be minor differences from piece to piece, making each as unique as those who wear them. Metal components used in creating this piece include a beautiful and strong silver-plated steel brooch pin. Any earring posts, earring hooks, necklace chains and jump rings used for this piece are made from silver-plated steel.
Designs come packaged in Erstwilder gift boxes.
CARE
Please be aware that resin is akin to ceramic and glass and therefore may be damaged if dropped or knocked. Due to the use of high-quality silver-plating in our brooch clasps, tarnishing and oxidisation can occur, producing a black and gold discolouration. As with all silver products, you can simply restore it using a silver cloth. Keep your Erstwilder companion neatly tucked away in this box when not being worn, avoid contact with perfumes, lotions, water, and excessive sunlight and you'll have a trusted friend for years to come.